Why Choose Us?
We love your pets… just like you!
Wiggle Your Tail is family owned and operated pet care business built on love. We offer premium pet care and dog walking services to our furry clients and their pet parents. We enjoy providing a personal pet care experience like no other. Over the last few years we have noticed a trend in the pet care industry where services are moving towards a very impersonal, one-size-fits-all approach.
At Wiggle Your Tail, we believe love and personal care for our pets is not something that can be rushed or mass produced. We take the time to get to know your pets so that we can provide them with the best care that they deserve.
Our Mission
At Wiggle Your Tail we take the time to personalize your pets care in a way that fits not only your schedule but all the needs of you and your family. We customize walk schedules based on the length, frequency, and times of day you need.
If you're heading out of town we have several ways to make sure your pet is cared for and doesn't feel alone while you're away. From in-home sittings to boarding, we can make sure your pet is with someone they feel comfortable with and trust when they can't be with you. Our mission is to make sure your pets are safe and feel loved all while making your life easier and giving you peace of mind.
Our Vision
Wiggle Your Tail believes love and personal care for our pets is not something that can be rushed or mass produced. Our vision is to bring high-quality, personalized pet care back to homes who love and value their furry family members as much as we do.
Making Your Pet Happy
One Playdate At A Time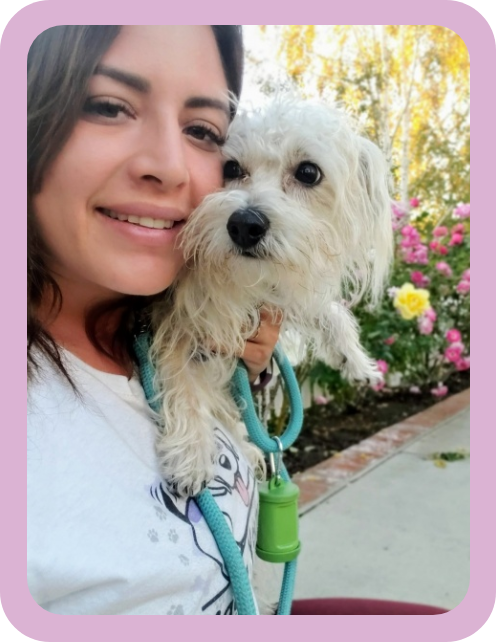 Meet The Founder
Christa P.
Founder + President • Personal Pet Care Professional
Hi, I'm Christa! I've been passionate about dogs and loved them ever since I got my first. Growing up, my sibling and I cared for hamsters, turtles, birds, cats, bunnies, and even a couple iguanas. So naturally, I was excited for our first dog!
Wiggle Your Tail was founded on a passion and love for all pets, especially dogs. Deep down, I feel I have a gift when it comes to taking care of pets and, most importantly, giving the pet's parents peace of mind. I'm thankful to be able to turn this passion into a business and provide the best loving care for pets as if they were my own—your pets are family and they deserve the best. We welcome you and your pet to the Wiggle Your Tail family with open arms and cuddles!